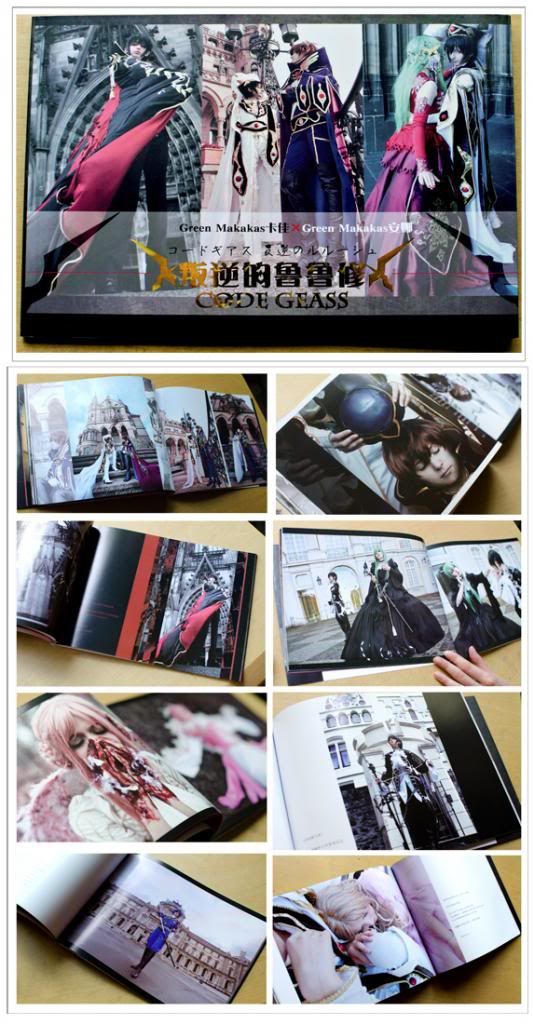 We have published a Code Geass photo book!

While publishing stuff like this is fairly common in China, for us it's extremely exciting and new!
The book includes almost all of our Code Geass related works over the last five years, some are very new and some are extremely old and all of them have great meaning to us. As anyone following us probably knows Code Geass is our number one anime and had a great impact on our lives. It's also what really got us interested to get deeper into cosplay

On the photo book itself:
It has 62 pages and contains 50 of our photos (20 different costumes of Lelouch, C.C., Euphemia, Nunnally, Suzaku aaand Akito from Geass Gaiden), plus Q&A in Chinese. The book is a soft cover with a protective slip case. On the slip case there is a "Code Geass" imprint with our nickname in white. On the book itself there is also an imprint in gold.
The print very high quality on glossy pages, the kind you usually encounter in every photo or art book

We are really not sure if there is interest in this outside of China, but if someone is interested:
Here's the original taobao link: item.taobao.com/item.htm?id=39…
But of course you can buy it directly from us, too!
The price stays the same as you can see it on taobao now: 70 yuan/renminbi = 8.22 Euros = 11,21 USD + shipping from China.

IF there is any interest, don't hesitate to contact us! We have credit cards, paypal and so on


____
*

You can also find us here

Facebook:
www.facebook.com/Green.Makakas…
tumblr:
green-makakas.tumblr.com/
Instagram:
instagram.com/green_makakas
Worldcosplay:
worldcosplay.net/member/828/
Twitter:
twitter.com/#!/Green_Makakas
Weibo:
www.weibo.com/1872063267/profi…
Cure:
en.curecos.com/profile/?ch=101…